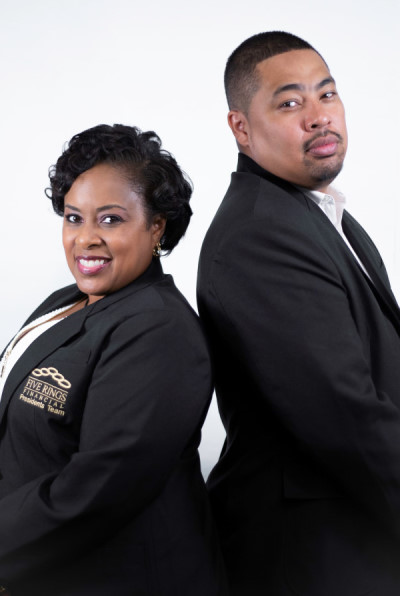 Bennie & Kimberly Y. Evans
Executive Vice President
Kimberly is the Founder of Purposed Consulting, LLC, where she serves as the President and CEO managing the financial and operational functions of the company. She also develops Financial Education Programs for speaking engagements and workshops.
Kimberly's career spans more than 30 years in the financial industry where she has specialized in transactional law, Contracts, Taxes, Tax Free Retirement Accounts, Living Benefits, Mortgage Banking and Regulatory Policy, Risk and Compliance.
Kimberly has experience in Law Firms and Corporate Business with companies such as Yellow Freight, Sprint, Fannie Mae, and Bank of America. She is also a Certified Housing Counselor, an IRS Certified Tax Preparer and a Licensed Financial Consultant, skills she uses to help families achieve financial independence.
Kimberly's leadership roles include:

President of the Collin County Black Chamber of Commerce
Board Member of The Black Women's Wall Street
Founder of the Averrow Boardroom – A Women's Professional Development Organization
Co-Founder of The Wealth Table – A weekly Facebook Live
Member of North Dallas Suburban Alumnae Chapter of Delta, Sigma Theta Sorority Inc., and Member of the Economic Development Committee
Bennie is the Vice President of Purposed Consulting, LLC where he manages marketing strategies, training, case management and client relations.
Prior to joining Purposed Consulting, Bennie served in the U.S. Army as Heavy/Light track vehicle repairer.
Bennie is also a chef and a previous owner of an Asian and Southern Comfort Food restaurant.
From 2008-2016 he worked in Senior Management of one of the fastest growing mechanical lube shops in the DFW metroplex.
Bennie is focused on empowering his clients to achieve financial freedom so they can focus on what matters most. He is committed to education first in the community and establishing a foundation for generational wealth for everyone and not just the wealthy.
Exceptionally loyal clientele, referrals and repeat business is what has formed Bennie's career and continues to make him successful.
The Evans are Co-Founders of the Black/African American Collaboration (BAAC), A Division Five Rings Financial, members of Council for Inclusion in Financial Services (CIFs), and the Collin County NAACP. They enjoy speaking engagements focused on couples, like marriage ministries.
One of the benefits the Evans most enjoy about running their company is the opportunity to mentor and coach others in the areas of leadership, personal development, and entrepreneurship. They enjoy leading education programs like Money 101 and Wine, Women & Wealth focused on "How Money Works", Living Benefits Life Insurance and Tax-Free Retirement Accounts/Indexed Annuities.
Raised Army Brats, Bennie and Kimberly can relate to anyone and have an attitude of service to everyone. Their passion is in quality of life and living life without limits is their personal mission. The company motto is "Real People. Real Purpose".